Events Past, But Not Forgotten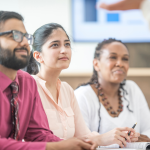 Missed Us the First Time…. Not to Worry!
Medications for Opioid Use Disorder (MOUD/MAT)
Join Dr. Keri Hager for a discussion about the use of medication to treat opioid use disorder. Participants will learn about the evidence behind medications for opioid use disorder (MOUD), consider ways to explain MOUD, and discuss how to avoid stigma and ensure adequate treatment for people with OUD.
Presenter: Dr. Keri Hager
Date: Wednesday, Feb. 8th, 2023
Time: – Closed –
WhatsApp with Media?
This 1-hour presentation will discuss global and national statistics across multiple media
formats. We'll review critical thinking skills and their impact on consumer perceptions and health behavior.
Presenter: Pamela Werb
Date: Wednesday, Dec. 6th, 2022
Time: – Closed –
About the Presenters
Pamela Werb is based in Minnesota, Consultant and trainer, facilitates substance use prevention trainings around the world, providing training for
schools, families, communities, and non-profit agencies in evidence-based curriculum and implementation.
Keri Hager, Pharm.D., BCACP is an Associate Professor and Associate Dean for Clinical Affairs at the University of Minnesota College of Pharmacy. Dr. Hager currently practices at the Center for Alcohol & Drug Treatment (CADT) and provides MAT/MOUD and harm reduction education for northeast Minnesota's rural and Indigenous communities.
Laura Palombi, PharmD, MPH, MAT is the Associate Dean for Students and an Associate Professor in the Pharmacy Practice and Pharmaceutical Sciences Department at the University of Minnesota College of Pharmacy – Duluth. Dr. Palombi is also a consultant for area treatment court teams. She has established relationships with public health professionals, healthcare systems, and providers and has a strong background in providing effective, multi-pronged education on topics including harm reduction and opioid-emergency response.
Alex Elswick, PhD is an Assistant Professor and Extension Specialist for Substance Use Prevention and Recovery at the University of Kentucky. He is the co-founder of Voice for Hope, a peer-driven recovery organization, and a person in long-term recovery.
Recovery Friendly Workplaces Missouri, through The Recovery Friendly Initiative empowers workplaces to support people affected by substance use disorders and those in recovery.
Dr. Nicole MartinRogers is a descendant of White Earth Nation. She grew up and currently lives in the Twin Cities. She has been doing evaluation and related applied research and program planning work with many organizations and communities for nearly 25 years, with a focus on Indigenous communities around Minnesota. She is both formally trained by academia and educated by community members and elders about how to do evaluation in a good way with, and for, the community. She lives with her husband, two children, and her dog Roscoe, and she loves reading, hiking, and spending time with her family at their cabin in Ely, MN.
Jennifer Garbow is an enrolled member of the Bois Forte Band of Chippewa. Jennifer has worked directly with Indigenous communities over 20 years, and currently serves as Extension's Director of American Indian Affairs and Programs. She co-leads a team of Tribal Community Facilitators who provide educational workshops and technical assistance to communities around intergenerational, historical trauma, and healing. In addition, she currently co-leads an Indigenous evaluation project that is grounded in cultural understanding and appropriate methods for gathering and sharing information about programs. She is the mother of four and lives with her family in Onigamiising (Duluth).
Missy McClaine is a graduate of Kent State University and is the Community Education Program Coordinator for the School Health Services department at Akron Children's Hospital. Over the last 15 years, Missy has had the privilege to travel, train, collaborate, and learn from thousands of students, school staff and community leaders from all over Ohio. Missy utilizes a mix of personal experiences and lessons from the road to bring practical resources to any adult looking to make a difference in the life of a child.
Lieutenant Mike Blaser is a serving lieutenant in the Janesville Police Department and has been active in law enforcement for 25 years. A certified Trauma Instructor for the Mercyhealth system in Rock County, WI, he specializes in tactics, leadership, crisis intervention, patrol response, communication, de-escalation, CRASE, RTF and trauma intervention & preparedness. Lt. Blaser educates across the US, to home and international audiences, on crisis intervention and has been working with the local first responder community to understand and address stress management, compassion fatigue and resilience.
Dr. Heather Norman-Burgdolf is an Assistant Extension Professor in Dietetics and Human Nutrition at the University of Kentucky. Her work includes translating research into extension programming related to nutrition recovery.
Mandi Dornfeld, MS is an Area Director at UW-Madison Division of Extension. Her focus is on creating healthy, thriving workplace cultures that empower people to identify and pursue their own health and wellbeing. She is certified by UW Madison's coaching program as a coach. Her career has focused upon community strategies to build resilience and prevent suicide, individual empowerment and building capacity in adults to address the challenges of navigating adolescence and young adulthood. She has an intense focus on creating community level awareness of trauma and the healing that workplaces and relationships can provide. She brings her deep belief in the self-efficacy of people along with her coaching style into her training environments and trains with authenticity, humor and compassion.
Heather Quackenboss is Human Development & Relationships Educator at UW-Madison, Division of Extension – La Crosse County. Her focus is on wellbeing, culture & diversity, community collaboration, and mental wellness. She provides strategic facilitation for organizations, collaborations, and committees ensuring action oriented outcomes and goals. She is certified in the Science of Happiness at Work through UC Berkeley, has been trained by UW-Madison, Public Health and Division of Extension as a facilitator for Racism as a Public Health Crisis and Health Equity Coaching, with Racial Justice from the Heart, and facilitates Racial Justice with the YWCA, BLACK (Black Leaders Acquiring Collective Knowledge), and Ho-Chunk Nation. Heather has an authentic approach, utilizing a collaborative facilitation style infused with compassion, adaptability, and humor.
Dr. Dimitri Topitzes is an LCSW and serving social work professor and department chair at UW-Milwaukee. He is the Director of Clinical Services for the Institute for Child and Family Well-Being in Milwaukee, WI. As a researcher, he partners with community-based agencies to implement and test innovative, trauma-responsive programming. As an instructor, he founded and directed the trauma-informed care (TIC) graduate program at UW-Milwaukee and teaches courses within it such as Trauma Counseling & Mindfulness and Community Building.
Kim Buehler Jones, M.A.Ed., AGRMS has been an educator for three decades spanning early childhood through adult professional education. She earned her MA in Education from St. Mary's University. Kim learned about the Grief Recovery Method during a period of significant loss and having no tools to heal her grief. She not only learned the action steps to grief recovery, but became an Advanced Grief Recovery Method Specialist (AGRMS) to help others. She provides the Grief Recovery Method to individuals experiencing grief and trans audiences work with individuals at risk to recognize grief and its manifestations to assist in recovery. She recently published Open Up Your Soul's SMILETM(2022), her holistic SMILETM (Story, Mindfulness, Ignite, Let go, Embrace), an approach to self discovery and grief recovery. It's a shift from a mind-centered view of the world to a heart-centered one. It's the path to an aware life filled with happiness, gratitude, hope, and love.
Tanner Derror, MPH Tanner is a health educator for District 9 based in the Midland office. He provides health promotion programming for Midland, Bay, Saginaw, Shiawassee, and Genesee counties in Michigan. Tanner graduated with his bachelor's degree in psychology from the Frederik Meijer Honors College at Grand Valley State University in 2018. While attending Grand Valley, he worked with the University Counseling Center as a Peer Educator to promote mental health and social justice initiatives on campus. He then received his Master of Public Health degree from the Health Behavior and Health Education program at the University of Michigan School of Public Health in 2021. Tanner has a special interest in addressing stress, loneliness, and adverse childhood experiences.
Lauren Kennedy, Ph.D. Dr. Lauren Kennedy is an Extension Specialist in Community Behavioral Health with the MSU Extension Health and Nutrition Institute. Her role includes building Extension's capacity to improve health equity in our communities by contextualizing individual health behaviors and outcomes within broader socioecological systems and structures. She studies and develops ways that traditional Extension delivery models and practices can be enhanced through use of implementation science frameworks, critical race theory, and authentic community engagement. She brings more than 15 years of experience in developing, implementing, and evaluating community health programming to MSU Extension.
Elizabeth Williams, M.Ed. Liz is a health educator housed in Genesee County. Counties of Primary Responsibility: Genesee, Saginaw, Shiawassee, Bay, and Midland. Liz offers a variety of disease prevention and community behavioral health programs. She has a specific interest in nutrition, physical activity, sleep health and substance use disorder. Before her work as a health educator, she worked as a community nutrition instructor for MSU Extension, delivering SNAP- Ed nutrition education in Genesee County. She received her Master's in Community Health Education from Wayne State University and her Bachelor's in Family Studies with a concentration on Substance Abuse Education: Prevention, Intervention, and Treatment from Central Michigan University.
Mallori DeSalle is a licensed mental health therapist and a MINT Certified Motivational Interviewing Trainer. More than 10,000 people have participated in training Mallori has developed or facilitated. Over the past 20 years as a helping professional Mallori has served in prevention, treatment and recovery roles. With a passion for creating engaging learning spaces, Mallori invites learners to laugh while they are listening and learning. Mallori is a Certified Humor Professional, faculty member at Indiana University in the School of Public Health and a TEDx speaker.
Tim Markle is founder and director of Forgiveness Factor. Forgiveness Factor exists to promote forgiveness as a way to live mentally well. Tim teaches classes, workshops, seminars and speaks about forgiveness, suicide prevention, and addiction recovery in Wisconsin and nationally. He also works at the Waisman Center at UW-Madison with the Southern Regional Center for Children and Youth with Special Health Care Needs helping families connect to supportive resources. You can contact Tim through Forgiveness Factor at www.forgivenessfactor.org or email at tim@forgivenessfactor.org